Keto Cinnamon Roll for One
by KetoFocus.com
When you feel like a gooey keto cinnamon roll, follow this recipe to create a single, soft & fluffy cinnamon roll, oozing with buttery layers of cinnamon, all in about 25 minutes. Top with a rich sugar free cream cheese frosting, it's the perfect treat for a cozy breakfast or indulgent dessert.
When you crave a gooey, buttery cinnamon roll but don't want to make a whole batch of keto cinnamon rolls and have leftovers, just make one! This single serve recipe features a soft, fluffy gluten free bread enveloping a cinnamon infused buttery filling and topped with creamy cream cheese frosting.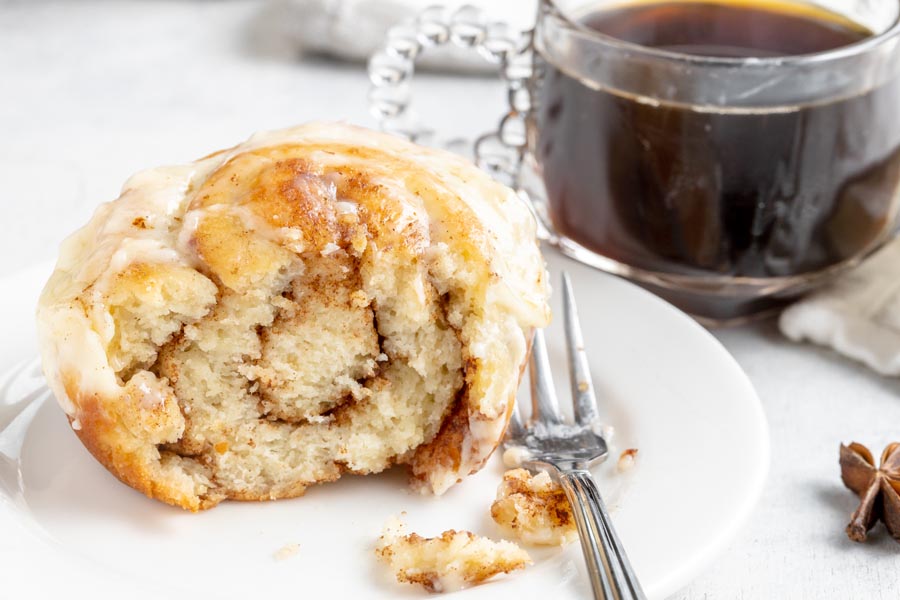 Even though the dough doesn't use traditional flour or an egg, it is still fluffy and pillowy soft. The combination of the almond flour, egg white powder, xanthan gum and sour cream help to cream a texture and flavor that you would find in a bakery.
For the cinnamon center, a blend of melted butter, brown sugar-free sweetener and ground cinnamon creates the perfect sticky filling that ooze out with each bite. Baking one cinnamon roll is easy when you use a ramekin. As the pastry bakes, it spreads up against the sides of the ramekin to help keep it's shape, height and allows it to puff up more without spreading flat.
Finish the roll with a generous spread of cream cheese frosting. Now you are ready for a quick, comfort food satisfaction in less than 25 minutes!
Subscribe to the KetoFocus YouTube Channel
With 100s of videos and millions of views, Ketofocus is one of the most popular Keto channels on YouTube.
Keto Cinnamon Roll Bread Ingredients
Buttery Cinnamon Filling Ingredients
Sugar Free Cream Cheese Icing Ingredients
Keto Cinnamon Roll for One Directions
Preheat oven & prepare ramekin

Preheat oven to 325 °F and spray the inside of a 4 oz ramekin with cooking spray. Set aside.

Quick Tip
Can cook the cinnamon roll on a parchment lined baking sheet.

In a small bowl, combine almond flour, egg white protein powder, sugar free sweetener, baking powder, xanthan gum and a pinch of salt.

Ingredients

1/3 cup almond flour
1 tablespoon egg white protein powder
1 teaspoon sugar free sweetener
1/4 teaspoon baking powder
1/4 teaspoon xanthan gum
pinch of salt

Add wet ingredients to dough

Add melted butter, sour cream and water. Stir to combine.

Ingredients

1 tablespoon unsalted butter, melted
1 tablespoon sour cream or plain yogurt
1 tablespoon water

Quick Tip
Dough should be tacky but not too sticky that it sticks to parchment paper and won't lift off completely. If it is too sticky, sprinkle in a little more almond flour.

Place dough on top of a sheet of parchment paper. Press and mold the dough into a long thin and narrow strip about 1 to 1 1/2 inch wide and 1/4 inch thick.

Make buttery cinnamon center

In a small bowl, combine 1/2 tablespoon melted butter with brown sugar free sweetener, ground cinnamon and a pinch of salt. Brush mixture on top of the thin strip of dough.

Ingredients

1/2 tablespoon unsalted butter, melted
1/2 tablespoon brown sugar-free sweetener
1/2 teaspoon cinnamon
pinch of salt

Starting with one narrow end of the dough, roll until you reach the end.

Quick Tip
Can flatten the roll to make it wider and short by pressing it between your palms as shown in video.

Place in the prepared ramekin and bake in a 325 °F oven for 17 minutes or until the top is golden brown.

Prepare cinnamon roll icing

Meanwhile, combine softened cream cheese, softened butter and powdered sugar free sweetener in a small bowl. Mix with a fork to combine until smooth.

Ingredients

1/2 oz cream cheese, softened
1/2 tablespoon unsalted butter, softened
1 tablespoon powder sugar free sweetener

When cinnamon roll is done baking, let sit for a few minutes before spreading frosting on the top.