Mini Keto Snickerdoodle Cookie Cereal
by KetoFocus.com
If you like to have milk with your cookies, try them together! Pour yourself a bowl of cereal with mini keto snickerdoodle cookies and your favorite keto milk. These little cookies are gluten-free, sugar-free and have a hint of tangy cinnamon flavor.
Keto snickerdoodle cookie cereal is a fun way to enjoy a sweet breakfast cereal without all of the sugar and carbs that traditional boxed cereals contain. Plus if you are fan of cookies and cereal, then you'll love making cookie cereals!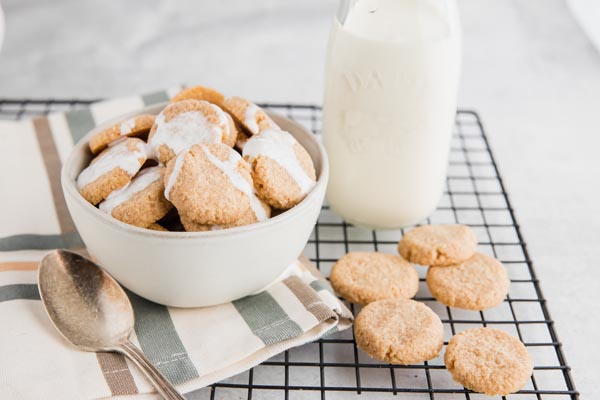 As a kid, I loved sugary cereal but my mom wouldn't allow them in the house. It's the same rule in my house too. This keto cookie cereal is the perfect solution to my kids' pleas for cereal for breakfast.
These mini keto snickerdoodle cookies are buttery and cinnamon in flavor. They also have a slight tangy like a snickerdoodle cookie should have.
If you are the type of person who likes to have a glass of cold milk with their cookies, then this recipe if you for you! Simply pour your favorite keto approved milk over your these cookies and scoop up this sweet goodness!
How to make keto snickerdoodles
Sift together dry ingredients – almond flour, coconut flour, cinnamon, cream of tartar and salt.
Cream together butter with sweetener and vanilla extract.
Combine wet and dry ingredients.
Refrigerate dough for 30 minutes to prevent spreading and allow flavors to come together.
Pinch of some dough and roll into a small ball. Flatten the ball onto a parchment lined baking tray.
Bake and let cool before serving.
What is mini cookie cereal?
Mini keto cookie cereal was a viral trend on TikTok. This cereal is little baked cookies that you put into a bowl with your favorite keto approved milk poured over. Just like having the kids' favorite cookie cereal – Cookie Crisp, but this keto cookie cereal is snickerdoodle flavor!
Mini Keto Snickerdoodle Cookie Cereal Recipe Video
Subscribe to the KetoFocus YouTube Channel
With 100s of videos and millions of views, Ketofocus is one of the most popular Keto channels on YouTube.
Mini Keto Snickerdoodle Cookie Cereal Ingredients
1 1/2 cup almond flour
1/4 cup coconut flour
2 teaspoons cinnamon
1/4 teaspoon cream of tartar
1/4 teaspoon salt
3/4 cup unsalted butter, softened
1/2 cup sugar free sweetener
1 teaspoon vanilla
Mini Keto Snickerdoodle Cookie Cereal Directions
Preheat the oven to 350 degrees.

Sift together almond flour, coconut flour, cinnamon, cream of tartar and salt in a small bowl. Set aside.

In a medium bowl, cream together butter, monkfruit sweetener, and vanilla extract.

Slowly stir in dry ingredients and mix until fully combined.

Refrigerate dough for 30 minutes. This allows flavors to meld together and prevent the butter from spreading while baking.

Pinch off a small ball of snickerdoodle cookie dough about the size of a large marble and roll into a ball. Place on a parchment lined baking tray and press down to form a cookie shape. Repeat with remaining dough, spacing around a ¼ inch apart.

Bake at 350 degrees for 8 minutes or until the edges begin to brown slightly. Remove from the oven and let cool on the baking tray for 3-5 minutes before transferring to a wire rack to cool completely.

Quick Tip
Let cookies cool completely before handling. They are very delicate until they cool.

Add cookies to a bowl and pour over your favorite keto approved milk.

Quick Tip
You can use heavy cream or any low carb nut milk - macadamia, almond, coconut.