Keto Marinated Asian Pork Tenderloin
by KetoFocus.com
Pork tenderloin in the slow cooker is a budget friendly and time saving dinner option. This freezer friendly keto pork tenderloin is marinated in a sugar-free, low carb Asian sauce as it slowly cooks in a crock pot for several hours.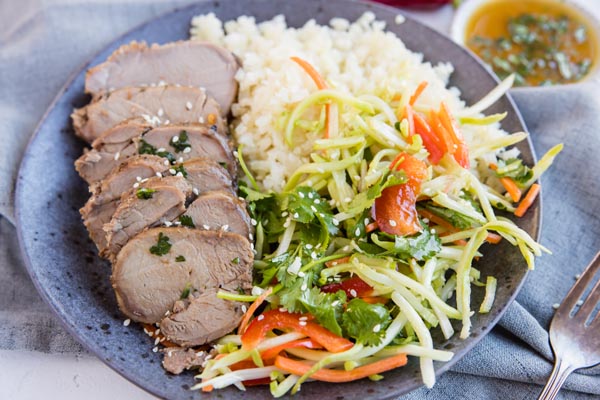 This keto slow cooker Asian pork tenderloin recipe is a budget friendly option that will easily feed a hungry family of four and still give you leftovers for lunch the next day.
Pork tenderloin is marinated in all of your favorite Asian flavors and cooked slowly in a crock pot while you are working or enjoying life.
Come home to the house filled with delightful smells of dinner cooking. Serve the sliced marinated pork tenderloin over cauliflower rice or broccoli slaw.
Keto Marinated Asian Pork Tenderloin Recipe Video
Subscribe to the KetoFocus YouTube Channel
With 100s of videos and millions of views, Ketofocus is one of the most popular Keto channels on YouTube.
Keto Marinated Asian Pork Tenderloin In The Slow Cooker Ingredients
1.5 to 2 pounds pork tenderloin
1/3 cup liquid aminos or soy sauce
1/4 cup olive oil
1/4 cup golden monk fruit or erythritol
2 tablespoons sesame oil
2 tablespoons Worcestershire sauce
2 tablespoons lemon juice
1 tablespoon dry mustard
2 teaspoons minced garlic
1 1/2 teaspoons black pepper
1/2 teaspoon red pepper flakes
Keto Marinated Asian Pork Tenderloin Directions
Add everything to slow cooker

Add all ingredients to the liner of a slow cooker.

Cover and cook at low for 3.5 to 5 hours or high for 2 to 3 hours or until pork has reached an internal temperature of 145 degrees Fahrenheit. Let stand a few mintues before slicing. Serve over broccoli slow or cauliflower rice.

Turn on sauté mode on your instant pot. Add olive oil and let heat up for a few minutes. Add tenderloins and sear until all edges are browned. Add remaining ingredients. Pressure cook for 15 minutes. Let pressure release naturally for 5 minutes before venting off the rest of the pressure manually.

Add all ingredients to a large ziploc bag, remove all the air and seal it close. Mix or shake to evenly coat the meat. Freeze flat. To cook, thaw in the refrigerator the night before. Then cook according to instructions above.