Keto Pumpkin Granola
by KetoFocus.com
A fun Fall twist on a grain-free, low carb cereal, this keto pumpkin granola has a hint of spice and is a delightful morning treat.
Cereal is a loved breakfast meal for many. Unfortunately most cereal is not keto approved. But I found a way to make keto granola that is easy and delicious! This keto pumpkin granola has a hint of pumpkin pie spice to match that earthy, nutty flavor from my basic low carb granola recipe.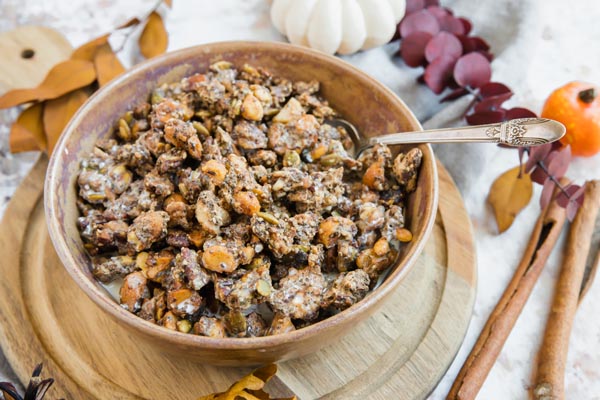 When the leaves change color and start to drop, that's when I crave pumpkin flavors. This sugar-free pumpkin granola cereal is the perfect way to start the morning and keep me full until my next meal.
Keto Pumpkin Granola Ingredients
1 cup chopped macadamia nuts
1/2 cup pecan pieces (chopped pecans)
1/2 cup almond slices
1/4 cup pumpkin seeds
2 tablespoons sunflower seeds
2 tablespoons chia seeds
2 tablespoons hemp hearts
2 tablespoons monkfruit blend sweetener or sweetener of choice
2 tablespoons golden monkfruit sweetener
2 teaspoons pumpkin pie spice
1/2 teaspoon cinnamon
1/4 teaspoon nutmeg
pinch of salt
2 egg whites
Keto Pumpkin Granola Directions
Preheat the oven to 250 degrees.

Add macadamia nuts, pecans, almonds and pumpkin seeds to a large skillet and heat over medium heat until nuts and seeds are lightly toasted. Remove from heat.

To the skillet, mix in sunflower seeds, chia seeds, hemp hearts, sweeteners, pumpkin pie spice, cinnamon, nutmeg and a pinch of salt. Stir to combine. Set aside.

Beat egg whites in a medium bowl until soft peaks form.

Fold in the nut and seed mixture into the egg white meringue until combined.

Spread the mixture on top of a parchment lined baking tray in a thin layer. Bake at 250 degrees for 45 minutes.

Remove from the oven and let cool completely before breaking smaller pieces. Store in a air tight container.