Keto Halloween Cookies
by KetoFocus.com
Fun pumpkin shaped sugar-free cookies filled with a creamy chocolate center
Chocolate filled Jack O' Lantern sandwich cookies make the perfect keto Halloween cookie to put a smile on your face.
Nutrition Facts
Serving Size:
1 sandwich cookie
Halloween is typically a sugar filled event. There are temptations everywhere from trick-or-treat candy to festive Halloween themed desserts and snacks.
It's easy to stay low carb with sugar-free alternatives to iconic Halloween recipes, like mini bundt cakes shaped like ghosts to keto peanut butter cookies resembling spiders and zombies. These Jack O 'Lantern shaped keto Halloween cookies are a fun option to bake up on the weekends or take to a costume party, without sacrificing on your goals.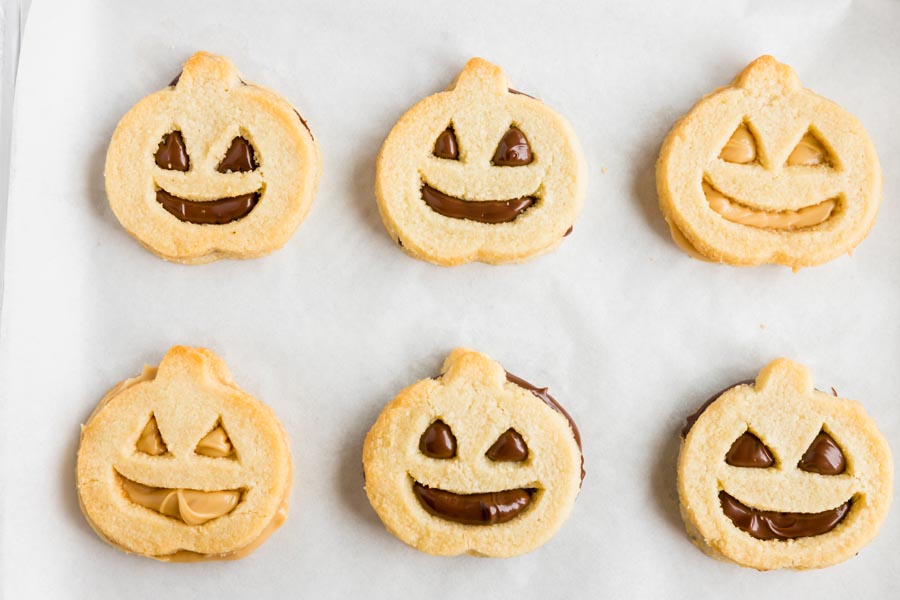 These sandwich cookies are made from a keto shortbread cookie base that doesn't use egg. Melted chocolate is spread in between the cookies for a creamy center and to highlight the pumpkin face.
How to make keto Halloween cookies
Make keto shortbread cookie dough – using almond flour, coconut flour, salt, butter, sugar free sweetener and vanilla extract.
Roll out dough and cut into pumpkin shapes. Use a pumpkin shaped cookie cutter to cut out each cookie. To one half the cookies, use a knife to cut out the Jack O' Lantern face.
Refrigerate the cookie dough to prevent spreading while baking.
Bake at 350 degrees.
Melt chocolate in a small bowl.
Spread melted chocolate in between a solid pumpkin cookie and a Jack O' Lantern cookie.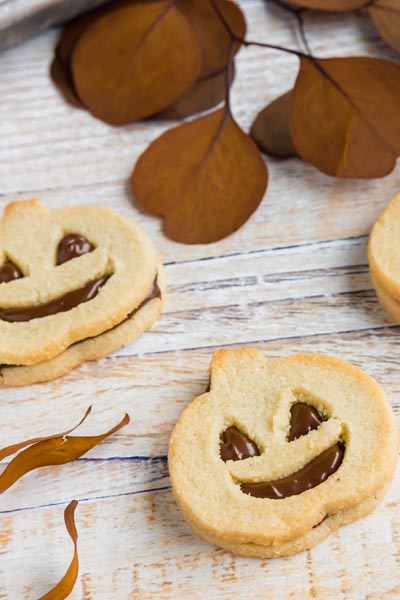 Key ingredients & substitutions
Keto flours – The combination of almond flour and coconut flour makes a delicious shortbread cookie. The crumb and texture are delicate and the flavor is very similar to a traditional cookie. And don't worry, these do not taste like coconut!
Butter – Gives these keto Halloween cookies a rich, buttery flavor.
Sweetener – Any sugar-free sweetener that measures cup for cup with sugar will work in this recipe. Consider using a monkfruit erythritol blend. If using allulose, you may need to add a little bit more.
Keto chocolate – It's easiest to use sugar free chocolate chips as they melt easily; however, keto nutella substitutes can be used as well.
Keto Halloween Cookies Recipe Video
Subscribe to the KetoFocus YouTube Channel
With 100s of videos and millions of views, Ketofocus is one of the most popular Keto channels on YouTube.
Keto Jack O' Lantern Cookies Ingredients
Keto Halloween Cookies Directions
In a medium bowl, sift together almond flour, coconut flour, and salt. Set aside.

Ingredients

Almond flour
Coconut flour
Salt

Quick Tip
Sifting the dry ingredients ensures there are no lumps of almond flour. It makes for a fine cookie texture; however, you can just whisk dry ingredients together if you don't have a sifter.

Cream butter and sweetener

In a separate bowl, cream together butter, sugar free sweetener and vanilla extract.

Ingredients

Unsalted butter (softened)
Sugar-free sweetener
Vanilla extract

Quick Tip
Mix with an electric mixer several minutes until butter is light and fluffy.

Using an electric mixer, slowly mix in dry ingredients into the butter mixture. Mix until smooth and combined.

Place dough in between two sheets of parchment paper and roll out using a rolling pin until dough is ⅛ - ¼ inch thick. Place dough in the refrigerator for 20-30 minutes.

Quick Tip
Refrigerating the dough always for the flavors to come together and it makes it easier to punch out pumpkin shapes.

Pumpkins & jack o' lanterns

Remove cookie dough from the refrigerator and punch out pumpkin shapes using a pumpkin cookie cutter. Place each pumpkin onto a parchment lined baking tray. Using a knife, cut out a jack o lantern face in half of the cookies. Refrigerate again for 15-20 minutes.

Quick Tip
If cookies start to get soft, making it harder to cut out the pumpkin shapes, return dough to the refrigerator to reharden. Refrigerating the dough the second time prevents the cookies from spreading too much during baking.

Bake at 350 degrees for 6-7 minutes or until edges start to turn golden brown. Remove from the oven and let them cool completely. DO NOT try to handle the cookies before you have let them cool completely on the baking tray or else they will crumble and break. They are very soft after baking but will harden once they cool.

Quick Tip
If your keto cookies did spread, use a knife to reform the edges of the cookie while they are still warm.

In a small bowl, add chocolate chips and coconut oil. Melt by microwaving at 30 second intervals, stirring in between. Spread melted chocolate on the pumpkin cookie that is whole (no face) and place the jack o lantern cookie on top. Repeat with remaining cookies.

Ingredients

Chocolate Chips (sugar free)
Coconut oil