Chocolate Granola
by KetoFocus.com
So chocolaty and crunchy, you'd think you were eating Cocoa Puffs!
A homemade grain-free granola that is easy to make and full of chocolate flavor. Plus this chocolate granola recipe has a crunch that will last when splashed with milk!
Crunchy granola is the BEST! I took my basic granola recipe turned it into a chocolate lovers dream – chocolate granola! It's a healthy version of cocoa puffs because you still have the crunch and the chocolate! Add a splash of your favorite milk and you'll amazed at how much better this homemade granola tastes compared to store-bought. Plus, we made it without grains or rolled oats!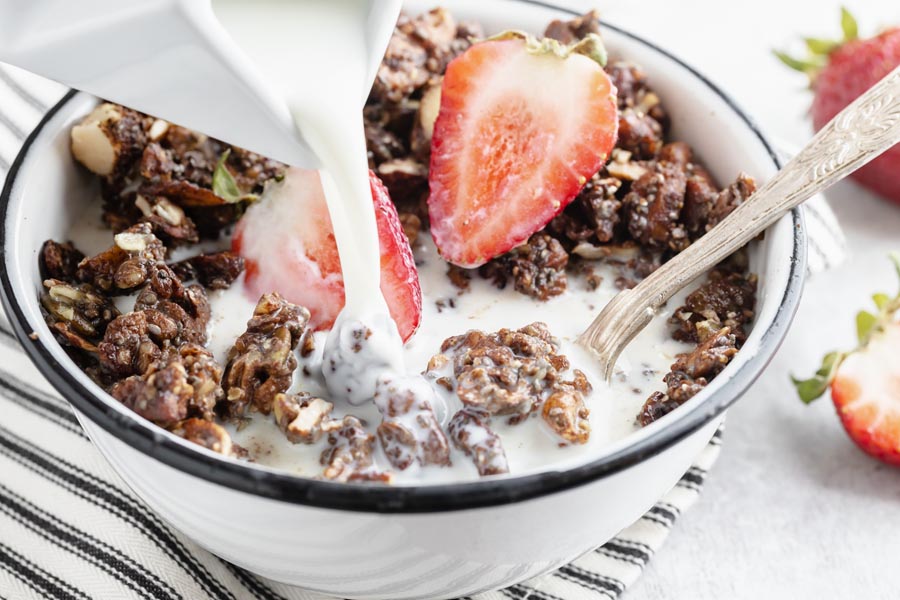 To achieve that rich chocolate flavor in our keto cereal, we add Cacao Bliss which is a raw cacao powder blended with superfoods like cinnamon, turmeric, mct oil, Himalayan salt and lucuma.
Cacao Bliss (my partner for this recipe) is not your typical cocoa powder. It has a nutritious formula of superfoods to help satisfy cravings and support blood sugar regulation. Like turmeric to help control inflammation. While MCT oil supports energy and aids in mental clarity. 
Its unique flavor can be used in all of your favorite keto recipes calling for chocolate or cocoa powder. You can save 15% off your order with my code KETOFOCUS at checkout!
How to make chocolate granola
Gather the nuts and seeds you want to add to your granola base.
Add sweetener and cocoa powder. Mix in with the nuts and seeds.
In a separate bowl, make the binder by beating two egg whites until soft peaks form.
Stir beaten egg whites into the granola mixture.
Bake at 250 degrees for 45 minutes.
Let set for about an hour to harden.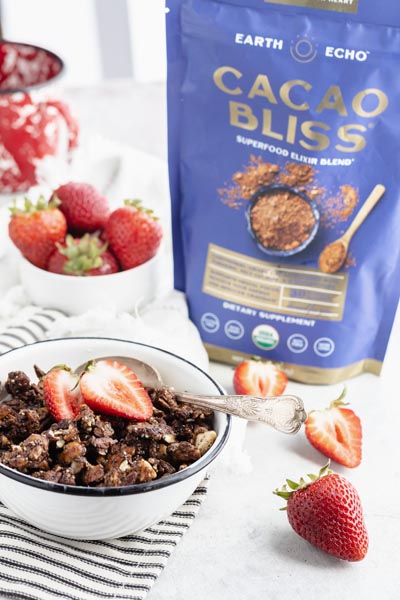 Key ingredients
Nuts – For this recipe, I used a combination of macadamia nuts, pecans and almonds; however, you can use any type of nut. Consider using walnuts, peanuts, brazil nuts, pili nuts. The amounts used can vary depending on your preference.
Seeds – I used hemp seeds, chia seeds, pumpkin seeds and sunflower seeds; however, you can omit or add on additional seeds. The amounts used can also be customized to suit your needs.
Sweetener – Sugar-free sweetener is my preferred sweetener for this recipe. I used both classic sweetener and a brown sugar free substitute for a hint of caramelized flavor.
Cocoa powder – For the dark chocolate flavor in this homemade granola, we use an unsweetened cocoa powder or you can use Cacao Bliss which was described above and will add additional superfoods.
Egg whites – The binder for the granola to hold it all together. Once baked, the egg whites will harden to form crunchy clusters.
Chocolate Granola Recipe Recipe Video
Subscribe to the KetoFocus YouTube Channel
With 100s of videos and millions of views, Ketofocus is one of the most popular Keto channels on YouTube.
Chocolate Granola Ingredients
Chocolate Granola Directions
Preheat oven to 250 degrees.

To a large bowl, add macadamia nuts, chopped pecans, sliced almonds, pumpkin seeds, sunflower seeds, chia seeds and hemp hearts. Stir together with sweeteners and cocoa powder. Set aside.

In a medium bowl, beat egg whites with an electric mixer until soft peaks form.

Add beaten egg whites to the nut and seed mixture and mix until combined.

Evenly spread granola mixture onto a parchment lined baking sheet. Bake at 250 degrees for 45 minutes.

Let cool completely at room temperature until the granola hardens. Break into bite sized pieces. Store in an air tight container.