Keto German Chocolate Cookies
by KetoFocus.com
The favorited German Chocolate Cake turned into keto cookies
Ultra soft and cake-like, these gooey keto German chocolate cookies are filled with components of a favorite cake - chocolate, pecans and coconut!
For the chocolate & nut lovers, these keto German chocolate cookies need to be added to your baking list. They are a double chocolate chip cookie, meaning they have a chocolate cookie based rather than just a plain chocolate chip cookie. And these keto cookies have a texture similar to chocolate cake, so they are soft and fluffy.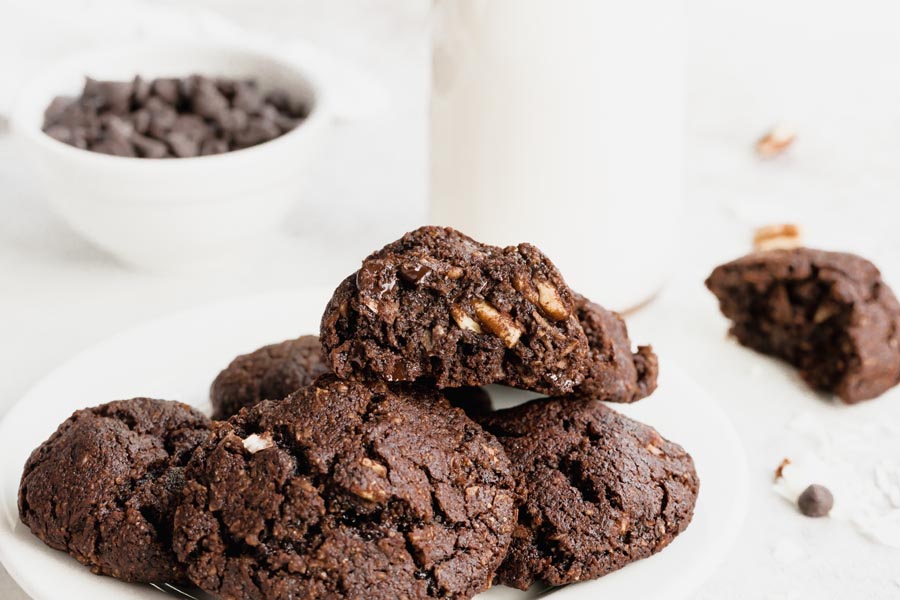 Toss in some pecans (or your favorite nuts) and shredded coconut flakes to turn a simple keto chocolate cookie into that iconic German Chocolate flavor.
These fudgy, chocolate keto cookies are utterly addicting and hardly taste sugar-free. They can be enjoyed any time of year your chocolate cravings hit, but are especially loved around the holidays.
How to make Keto German Chocolate Cookies
Combine the dry ingredients – almond flour, oat fiber, cocoa powder, baking soda and salt.
Cream butter & sweeteners. Use softened unsalted butter and two types of sugar-free sweeteners. Beat in an egg and vanilla.
Mix the dry ingredients into the wet ingredients. The dough will be thick!
Make it German Chocolate flavored by adding in chocolate chips, nuts and coconut flakes.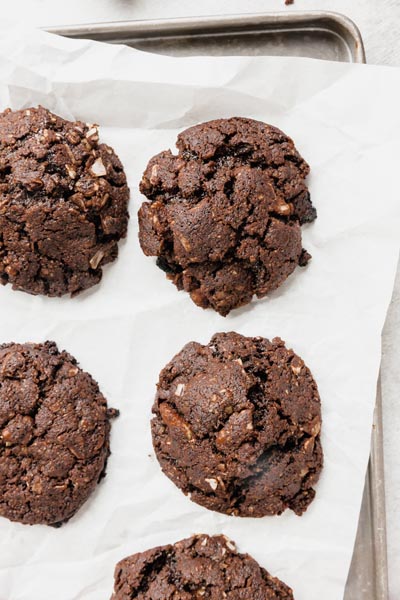 Keto German Chocolate Cookies Recipe Video
Subscribe to the KetoFocus YouTube Channel
With 100s of videos and millions of views, Ketofocus is one of the most popular Keto channels on YouTube.
Keto German Chocolate Cookies Ingredients
Keto German Chocolate Cookies Directions
Preheat oven to 350 degrees. Line a baking sheet with parchment paper.

In a medium bowl, stir together almond flour, oat fiber, cocoa powder, baking soda and salt. Set aside.

Ingredients

1 cup almond flour
2 tablespoons oat fiber
1/2 cup cocoa powder
1/2 teaspoon baking soda
1/2 teaspoon salt

Cream butter and sweeteners

In a large bowl, cream together butter and both sweeteners until light and fluffy (about 3-5 minutes) using an electric mixer.

Ingredients

1/2 cup unsalted butter (softened)
1/2 cup packed brown sugar-free sweetener
1/3 cup granulated white sweetener

Quick Tip
Mixing the butter and sweeteners for 3-5 minutes helps to incorporate air into the butter which will help make your cookies fluffy and soft.

Finish the wet ingredients

Mix in the egg and vanilla until combined.

Ingredients

1 egg
1 teaspoon vanilla extract

Slowly add in dry ingredients and mix until combined.

Quick Tip
Dough will be very thick.

Make it German Chocolate flavored

Stir in coconut, chocolate chips and nuts.

Ingredients

1 cup coconut flakes
1/2 cup chocolate chips
1/2 cup chopped pecans

Pinch off about 2 tablespoons of dough and roll in between the palms of your hands to form a ball shape about 1 1/2 inches thick. Bake at 350 degrees for about 10 minutes. Remove from oven and immediately tap the tray on the counter to slightly deflate the cookies. Continue to let cool on the baking tray for about 3-5 minutes or until you can transfer them to a wire rack without them crumbling. Cookies will continue to harden as they cool.

Quick Tip
Cookies will still be soft in the middle and crumbly when first out of the oven, but will continue to set as they cool. Don't try to handle until they have cooled.