Keto Lemon Blueberry Muffins
by KetoFocus.com
These keto lemon blueberry muffins have a lemony crumb and are stuffed with blueberries and topped with a lemon sugar-free glaze. This family favorite makes for a delicious breakfast bite or snack.
It can be hard to find a low carb muffin that is spongy and that's tasty enough to sink your teeth into. With the most perfect muffin top, you will be blown away with how much these taste and look like regular muffins.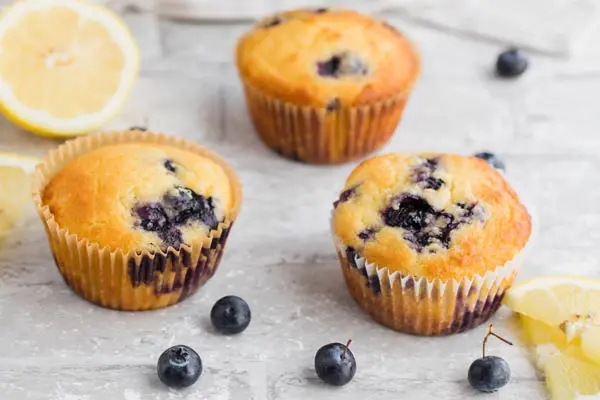 These keto lemon blueberry muffins are bursting with fresh blueberries and zesty lemon flavor. They're also incredibly moist and topped with a sweet lemon glaze for an extra treat. With how easy these are to make, you can have a fresh batch of warm muffins in no time!
Pack them for lunch, enjoy as a quick snack or bake for a scrumptious breakfast if you are headed out the door in the morning.
How to make keto lemon blueberry muffins
Combine dry ingredients – almond flour, coconut flour, baking powder and salt.
Cream the creamy ingredients – Cream together coconut oil, butter and cream cheese.
Stir in powdered sugar free sweetener and sour cream. Add eggs, vanilla, lemon juice and lemon zest. Then stir in dry ingredients.
Toss in fresh blueberries and fold in.
Pour into muffin liners in a muffin tray and bake.
Make lemon glaze and top on freshly baked keto blueberry muffins.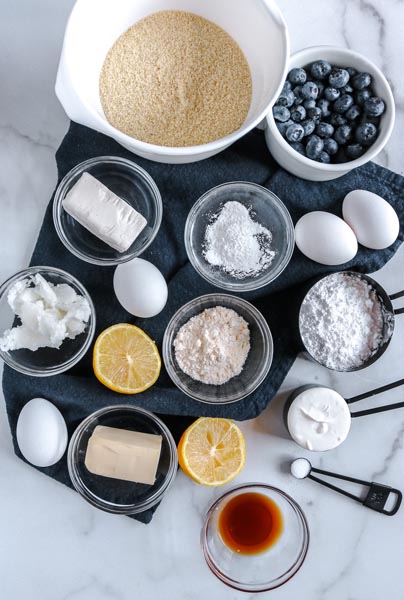 Key ingredients & substitutions
Almond flour  & coconut flour – The best combination of keto flours is almond flour and coconut flour. Together they form a flour that is closest in consistency and taste to all-purpose flour. This blend is my favorite gluten-free flour combo because they are readily available at most supermarket too.
Butter & coconut oil – The fat added to these muffins to help make them moist and spongy.
Cream cheese – Used to neutralize the flavor from the almond flour, coconut flour, eggs and coconut oil.
Sweetener – Powdered sugar free sweetener works best since it dissolved fully in the muffin batter. Look for one that measures cup for cup with regular sugar.
Sour cream – Used to neutralize the nut flours, coconut oil and egg flavor in this recipe. The combination of the acid from the sour cream and the baking powder will also help these muffins rise. To substitute sour cream, use Greek yogurt instead. 
Eggs – Use for structure and to help puff up these muffins to give that a perfect muffin top.
Lemon – For the best lemon flavor to the muffins use fresh squeezed lemon juice and lemon zest. However, bottle lemon juice will work and so will lemon extract.
Keto Lemon Blueberry Muffins Recipe Video
Subscribe to the KetoFocus YouTube Channel
With 100s of videos and millions of views, Ketofocus is one of the most popular Keto channels on YouTube.
Keto Lemon Blueberry Muffins Ingredients
1 ¼ cup almond flour
3 tablespoons coconut flour
2 teaspoons baking powder
¼ teaspoon salt
4 tablespoons unsalted butter
4 tablespoons cream cheese
2 tablespoons coconut oil
½ cup powdered Swerve, or sweetener of choice
¼ cup sour cream
4 eggs
juice and zest from one lemon
1 teaspoon vanilla extract
1 cup blueberries
Keto Lemon Blueberry Muffins Directions
Preheat oven to 350 degrees. Place muffin liners in a 12 cup muffin pan.

In a small bowl, combine almond flour, coconut flour, baking powder and salt. Set aside.

Ingredients

1 ¼ cup almond flour
3 tablespoons coconut flour
2 teaspoons baking powder
¼ teaspoon salt

In a medium bowl, add butter, cream cheese and coconut oil. Melt in the microwave at 30 second intervals until softened. Mix until smooth. May have to use a hand mixer to blend until smooth.

Ingredients

4 tablespoons unsalted butter
4 tablespoons cream cheese
2 tablespoons coconut oil

Stir in powdered sugar free sweetener and sour cream.

Ingredients

½ cup powdered sugar free sweetener
¼ sour cream

Beat in eggs, vanilla and juice and zest of one lemon.

Ingredients

4 eggs
1 teaspoon vanilla
juice & zest from lemon

Stir in dry ingredients to the wet mixture.

Scoop the muffin tin lined with muffin liners. Fill until you almost reach the top. Bake at 350 degrees for around 17-20 minutes or until muffin has risen.

To make the lemon glaze, combine powdered sweetener and juice from one lemon in a small bowl. If you need to thin it out, add more lemon juice. Drizzle on top of muffins.

Ingredients

1 cup powdered sugar free sweetener
juice from one lemon