Keto BBQ Chicken Tostada
by KetoFocus.com
These keto BBQ chicken tostadas are a quick meal idea you can make with leftover chicken. Cook in the oven, grill or air fryer and dinner is ready in minutes.
BBQ sauce can enhance and add a different flavor to the other standby. I've used it in place of pizza sauce for my BBQ pulled pork pizza and added it to meatloaf to make a BBQ cheeseburger meatloaf. This keto tostada recipe uses tangy BBQ sauce to add a twist to the old standard.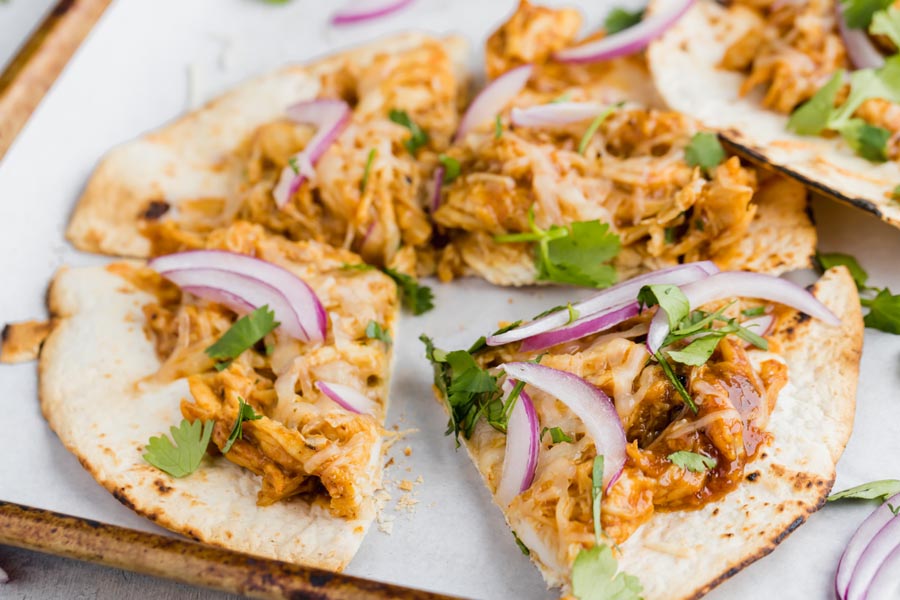 This tostada recipe just needs a few simple ingredients. You may already have these items on hand and if you don't, you can pick up from the store along with a rotisserie chicken. Getting a rotisserie chicken from the deli is the easiest way to make these BBQ chicken tostadas. But any leftover chicken, or even canned chicken, will work as long as the flavors pairs well with BBQ sauce.
Keto BBQ Chicken Tostada Recipe Video
Subscribe to the KetoFocus YouTube Channel
With 100s of videos and millions of views, Ketofocus is one of the most popular Keto channels on YouTube.
Keto BBQ Chicken Tostada Ingredients
Keto BBQ Chicken Tostada Directions
Add cooked, shredded chicken to a medium bowl. Pour in BBQ sauce and mix until combined.

Add 1/2 cup BBQ chicken mixture on top of each tortilla. Sprinkle 1/4 cup shredded cheese to each. Top with red onions.

Place tostadas on a parchment lined baking tray and bake at 350 degrees for 6-8 minutes.

Place tostada in the basket or tray of an air fryer. Air fry at 350 degrees for 6 minutes.

Grill and griddle instructions

Heat grill to medium high heat. Place tostada directly on the grill or griddle. Close the lid and let cook until cheese is melted (about 3-4 minutes).

Sprinkle cilantro on top.