Cheese Taco Shells
by KetoFocus.com
Easy keto taco shells with 1-ingredient
As long as you have cheese, you can make keto tacos! These crispy, cheese taco shells are made from baked cheddar cheese formed into a taco shape. Fill with your favorite taco fixings for an easy low carb taco night!
Nutrition Facts
Serving Size:
1 taco shell
Cheese is a staple ingredient in many keto recipes. Not only is it used to make fathead dough, but cheese can be used to make keto tacos without adding too many carbs. With these keto cheese taco shells, we don't add any carbs! They are ZERO CARBS!!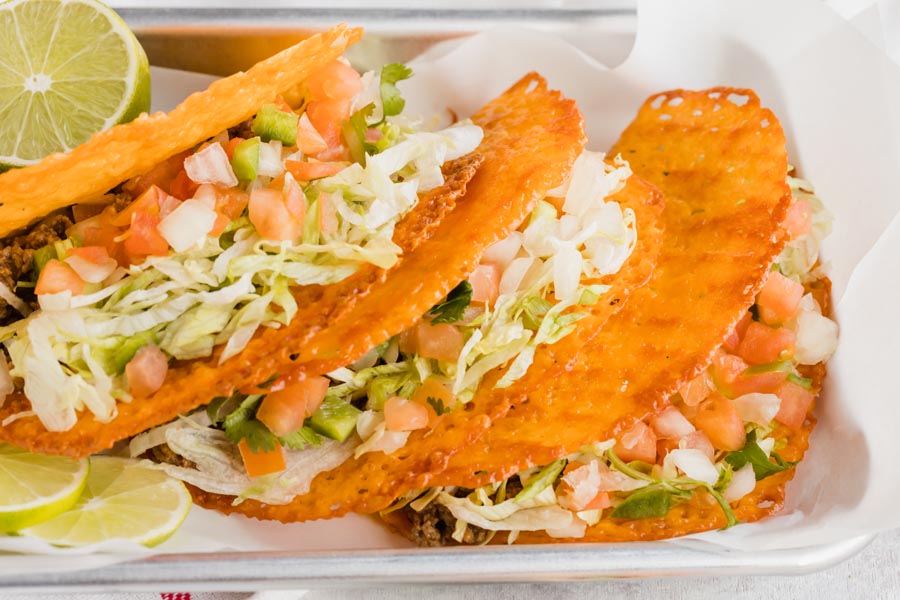 Made with one ingredient, cheese! You can have crispy hard shell tacos by just melting cheese and molding it into a taco shape. No need to get those expensive low carb tortillas you find at the store. This is an easy, gluten-free solution that is much less expensive and just as tasty!
Even though cheddar cheese was used to make these tacos, most any cheese will work – Pepper Jack cheese, Colby Jack, even parmesan!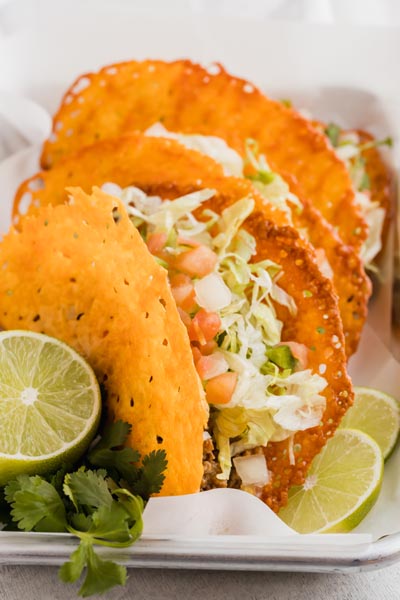 How to make cheese taco shells
Add cheese to parchment paper. Can use shredded cheese or slice cheese. Shredded cheese is easier to form a circle shape. If using sliced cheese, you may have to trim the edges to get those rounded corners similar to a tortilla.
Bake in the oven. Bake cheese shells in the oven at 350 degrees F for 5-7 minutes or until the edges start to turn golden brown.
Mold into taco shape. Let the melted cheese circles cook on the tray for a few minutes. Then drape over a spatula propped up with cups. A taco holder works great too. Just drape your cheese tortilla over the hump of the taco tray. Let sit until cooled completely.
Blot off excess grease and oil. This will keep your hands from getting too greasy when you hold your taco.
Add your favorite taco fixings – seasoned beef, chicken, shredded lettuce, tomato, more cheese!!
Cheese Taco Shells Recipe Video
Subscribe to the KetoFocus YouTube Channel
With 100s of videos and millions of views, Ketofocus is one of the most popular Keto channels on YouTube.
Cheese Taco Shells Ingredients
1 cup shredded cheese (Cheddar, Pepper Jack, Colby jack, Monterey Jack)
1/2 teaspoon garlic powder, optional
parchment paper
Cheese Taco Shells Directions
Preheat oven to 350 degrees Fahrenheit. Place four 1/4 cup piles of cheese, spacing 2-inches apart on a parchment lined baking sheet. Press or sprinkle cheese around so it makes an even layer in a circular shape. Can sprinkle seasonings like garlic powder on top if desired.

Quick Tip
A silicone mat will work too. If using sliced cheese, just use 1-2 cheese slices and cut the edges to make a circle.

Bake at 350 degrees for 5-7 minutes or until the edges are golden brown.

Quick Tip
If you remove them from the oven before the edges turn brown, your taco shells won't be as crispy.

Let the cheese cool on the baking tray for 1-2 minutes or until it is firm enough to lift and hold it's circular shape but still pliable. Lift up the cheese circle and place it over the handle of a spatula or spoon balanced on two cups or upside down, over a taco holder. Let cool completely to harden into this taco shell shape.

Quick Tip
Bloat extra grease with a paper towel if needed.