Keto Tostadas
by KetoFocus.com
A crunchy keto shell topped with Mexican favorites
Pile these keto tostada shells with your favorite toppings like crumbled ground beef, lettuce, tomatoes, and cheddar cheese. Get your Mexican food fix with these tasty, crunchy, gluten-free low carb tostadas!
Instead of tacos, try making keto tostadas with homemade seasoned ground beef. These crunchy keto shells actually looks and tastes like a tostada shell, but are so much better than traditional tostadas with less carbs. They're the perfect meal for everyone in your family and something that is easy to put together, especially if you make the crunchy tostada shells ahead of time.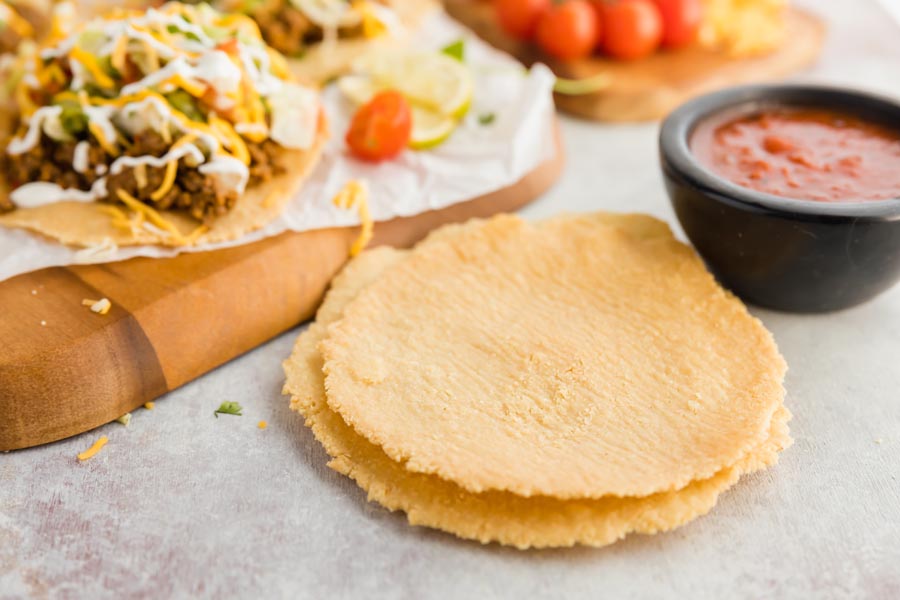 Many keto tostada recipes use cheese or a wheat-based low-carb tortilla. This keto tostada recipe is made without cheese and is the perfect substitute for other options.
Use your choice of toppings to make this your new favorite weeknight meal!
How to make low carb tostadas
These traditional Mexican tostadas are easy to make with these simple steps.
Cook seasoned beef. Add ground beef and taco seasoning to a skillet and cook until browned.
Make tostada shell dough. In a small bowl, whisk together almond flour, protein powder, xanthan gum, salt and water.
Press into keto tortillas. Roll dough into a ball and press or roll into circle tortilla shape.
Make crispy shells. Fry tortillas in a skillet filled with avocado oil until hardened.
Top the tostada shells with seasoned beef and your toppings.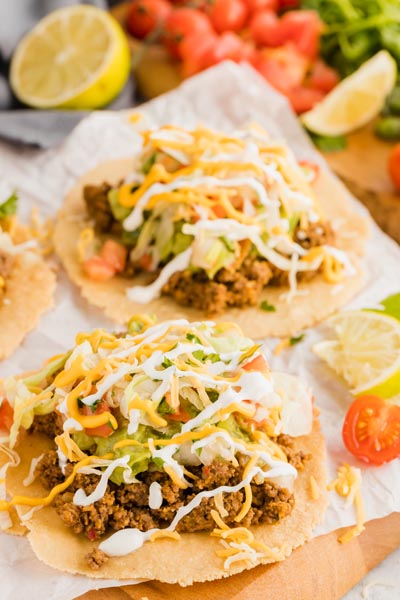 Key ingredients & variations
These simple ingredients are a low carb alternative to traditional taco shell ingredients. They have a slightly different flavor than you may be used to, but they combine to make delicious tostadas!
Avocado oil – Use any neutral oil like olive oil or canola oil.
Ground beef – You can swap out the beef for ground turkey, ground pork, ground chicken, or rotisserie chicken.
Taco seasoning – Make your own taco seasoning using cumin, chili powder, salt, and pepper.
Almond flour – Almond flour is a great option for this recipe.
Protein powder – Use unflavored, low-carb protein powder. This is the secret ingredient to making crispy taco shells!
Xanthan gum – This helps the dough stick together.
Hot water – This brings all the dry ingredients together to form a dough to work with.
Subscribe to the KetoFocus YouTube Channel
With 100s of videos and millions of views, Ketofocus is one of the most popular Keto channels on YouTube.
Low Carb Tostadas Ingredients
Keto Tostadas Directions
In a large skillet, add avocado oil and heat over medium high heat. Add ground beef, break up with a spatula and let cook until browned. Stir in taco seasoning and pour in 1/4 cup of water. Turn down heat to low, cover and let simmer for 5 minutes.

Ingredients

2 tablespoons avocado oil
2 tablespoons taco seasoning
¼ cup water

Tostada shell: dry ingredients

To a small bowl, whisk together almond flour, protein powder, xanthan gum and salt.

Ingredients

1 ⅓ cup almond flour
2 tablespoons protein powder
1 tablespoon xanthan gum
½ teaspoon salt

Tostada shell: finish dough

Stir in hot water and mix until a dough ball forms. Divide the dough into 8 even balls.

Quick Tip
Roll dough into between hands.

Using a tortilla press or a rolling pin, place a ball of dough in between two parchment circles and press or roll out to a thin circle.

Quick Tip
Tortilla press works best.

To a medium skillet, add enough avocado oil to fill the bottom of the skillet 1 cm from the bottom (just enough so the tortilla will submerge while frying) and heat over medium heat. Once oil is hot, peel off the parchment paper from each side of tortilla and place in the oil. Press down tortilla with a spatula and let fry for 2-3 minutes or until golden brown. Flip over and fly the other side for 1-3 minutes until golden brown, hardened or almost hardened. Remove from oil and place on a paper towel lined plate to dry. Repeat with remaining shells.

Quick Tip
Tostada shells will continue to hardened as they dry.

Top tostada shells with seasoned beef, shredded lettuce, cheese and diced tomato.