Keto Toffee
by KetoFocus.com
This buttery crunchy keto toffee uses only a few ingredients and has all the salty chocolate toffee flavor you love with none of the sugar!
If you love the sweet buttery crunch of toffee but hate all the sugar that comes with it, this keto toffee recipe will quickly become a holiday favorite. With only a few ingredients, you'll have a batch of salty, chocolatey, and crunchy toffee that won't stick to your teeth.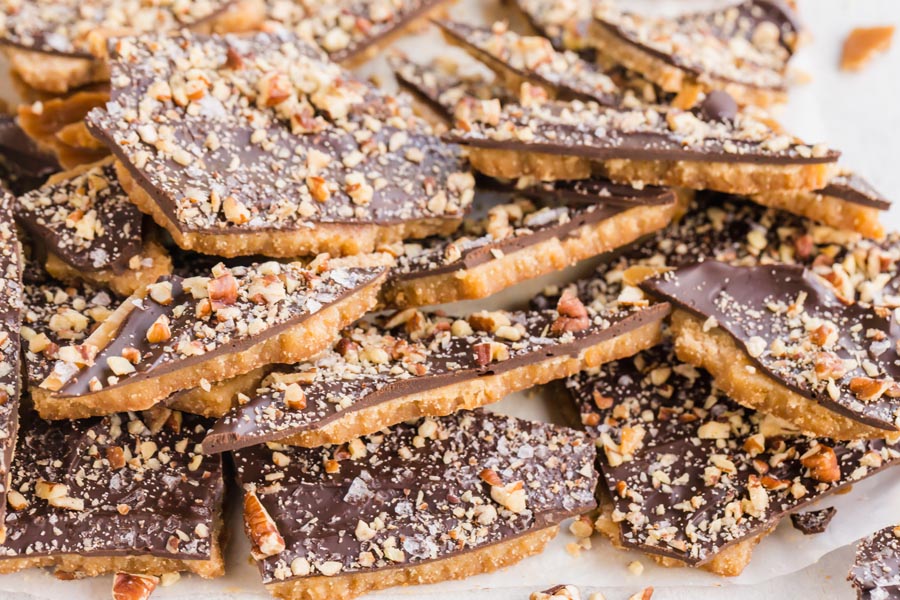 If you've made other keto candies, this toffee recipe is similar to making keto caramel candies, except the mixture is heated to the hard-crack stage for a crunchy candy instead of soft caramels and I use a different sweetener which also affects how quickly the caramel mixture reaches hard crack stage.
You and your holiday guests will love this sweet toffee coated in sugar-free chocolate and sprinkled with pecans and flaked salt for the perfect salty-sweet finish.
Add butter, sweetener and salt to a saucepan and bring to a boil.
Stir and cook until the temperature reads 300 degrees F on a candy thermometer.
Stir in vanilla, and pour it into a baking dish that's been lined with parchment paper, spreading it out until even.
Let the toffee sit for several minutes. Then sprinkle chocolate chips evenly on top and cover with foil to help melt the chocolate.
Once melted, spread the chocolate evenly over the toffee and top with flaked salt and pecans.
Cover and refrigerate for at least 1-2 hours to set.
Pro Tip: If the chocolate doesn't melt after covering it with foil, remove the foil and place the dish under the broiler for 30-60 seconds.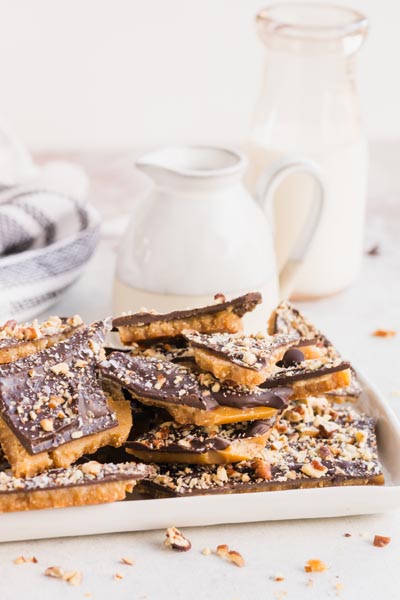 Key ingredients & substitutions
Butter – I used unsalted butter for this recipe. Salted butter may lead to the recipe tasting too salty and the salt levels in many butters vary from brand to brand.
Brown sugar-free sweetener – I prefer the brand Swerve, which bakes just like regular brown sugar with no added calories or sugars.
Sugar-free chocolate chips – If needed, you can substitute a sugar-free chocolate bar that's been crushed into bite-sized pieces.
Salt – You'll need fine-grained sea salt or table salt for the low carb toffee mixture and flaked salt to use as a topping. Flaked salt is coarse and adds the perfect amount of saltiness to each sweet bite of toffee.
Pecans – Slivered almonds, crushed walnuts or pumpkin seeds will also work.
Subscribe to the KetoFocus YouTube Channel
With 100s of videos and millions of views, Ketofocus is one of the most popular Keto channels on YouTube.
Keto Toffee Directions
Prepare a square baking dish or ¼ sheet baking tray by spraying cooking spray first then lining it with parchment paper. Set aside.

Quick Tip
The cooking spray helps the parchment paper stick to the pan.

In a large saucepan, add butter, sweetener, water and salt. Heat over medium heat and bring to a boil.

Ingredients

1 cup butter (unsalted)
1 cup brown sugar free sweetener
2 tablespoons water
1/2 teaspoon salt

Continue to let cook, stirring occasionally until temperature on a candy thermometer reads 300 degrees Fahrenheit.

Quick Tip
Temperature will rise quickly then will rise slowly as moisture is released from the caramel mixture.

Once temperature reaches 300 degrees, remove from heat. Immediately stir in vanilla and pour into prepared baking dish. Evenly spread toffee mixture and let sit for several minutes until the toffee starts to harden on the top. The toffee will turn opaque as it cools.

Ingredients

1 teaspoon vanilla extract

Quick Tip
Work fast because toffee will harden quickly as soon as it is removed from the heat.

When the majority of the toffee is opaque, sprinkle chocolate chips evenly over the toffee. Cover dish with aluminum foil and let sit for 4-5 minutes to help melt the chocolate.

Ingredients

7 oz sugar free chocolate chips

Quick Tip
If the chocolate doesn't melt after covering. Place the dish, uncovered in the oven under the broiler. Broil on high for 30-60 seconds.

Remove the foil, and spread the melted chocolate evenly over the toffee. Top with flaked salt and crushed pecans. Cover again and place in the refrigerator to further set for 1-2 hours.

Ingredients

1 tablespoon sea salt flakes
1/3 cup crushed pecans