Keto Chocolate Trifle
by KetoFocus.com
This delightful keto chocolate trifle recipe combines layers of moist boxed chocolate cake, creamy vanilla pudding, and rich chocolate whipped cream - all made sugar-free for a decadent dessert that is easy to make and enjoyed by all, including those who don't eat keto!
Simple keto desserts like this chocolate trifle are the ideal dish to take to a potluck or cookout. Similar to the keto berry trifle, it's an impressive treat you can bring that doesn't take a lot of time or effort to make, yet it tastes like you did. Plus, it's so good, no one will know it's sugar free or low carb unless you tell them!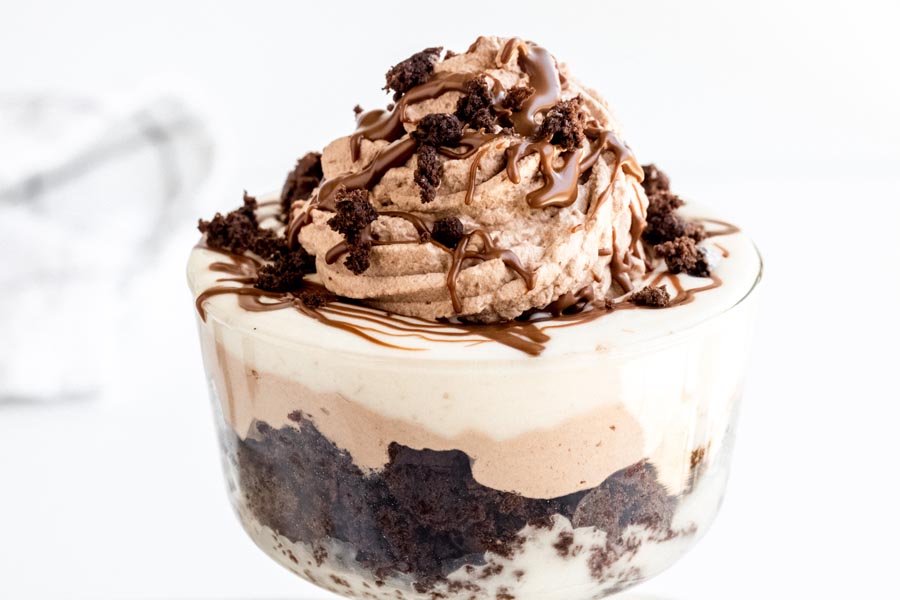 With shortcut ingredients like boxed cake mix and pudding mix, you can whip up this dessert in just 30 minutes. This keto chocolate trifle offers the perfect balance of flavors and textures, with layers of moist, spongy chocolate cake, creamy vanilla pudding, and rich chocolate whipped cream. All are sugar-free and low carb, so you can still enjoy a guilt-free indulgence without sacrificing your goals.
Make a large trifle to share or turn it into individual portion-controlled mini trifles, so you can easily track how much you are getting. Or turn it into a poke cake and let the creamy pudding soak into the cake for an irresistible treat everyone will enjoy.
How to make a keto chocolate trifle
This chocolate trifle is easy to make when you follow this semi-homemade recipe:
Make a sugar free chocolate from a box cake mix. Follow the package instructions for mixing, but bake on a quarter baking sheet for 10 minutes at 375°F.
While cake is cooling, prepare the vanilla pudding by using boxed sugar-free vanilla pudding mix, 2 cups of nut milk and 1/3 cup heavy cream. Pudding will be running and have a slightly thickened consistency.
Whip up some chocolate whipped cream by beating heavy whipping cream with sugar free sweetener and unsweetened cocoa powder.
Assemble the trifle by layering down pudding, cubed chocolate cake, chocolate whipped cream, more pudding and finishing with a dollop of more chocolate whipped cream.
Keto Chocolate Trifle Recipe Video
Subscribe to the KetoFocus YouTube Channel
With 100s of videos and millions of views, Ketofocus is one of the most popular Keto channels on YouTube.
Keto Chocolate Cake Layer Ingredients
Sugar Free Pudding Layer Ingredients
Chocolate Whipped Cream Layer Ingredients
Keto Chocolate Trifle Directions
Make chocolate cake batter

Prepare chocolate cake batter according to the directions on the box. For this cake mix, eggs, avocado oil and nut milk are added to a large bowl and mixed to combine. Add chocolate cake mix and mix with an electric mixer until smooth.

Ingredients

keto chocolate cake mix
4 eggs
1/2 cup avocado oil
1 cup nut milk

Pour cake batter into a parchment lined quarter sheet baking tray. Bake for 10 minutes according to the temperature recommended on the cake mix box - with this cake mix it was 375°F.

Quick Tip
Can baking in a baking dish or cake pan according to instructions on the box; however, you will need to cut cake into smaller cubes.

Once cake is done baking, remove it from the oven and allow it to cool for 5-10 minutes before cutting it into cubes. Set aside.

Make thinned out vanilla pudding

To a large bowl, combine sugar free pudding mix with 2 cups of nut milk and 1/3 cup of heavy whipping cream. Mix with an electric mixer over medium speed for 3-4 minutes until pudding mix is dissolved and mixture has thickened slightly. Set aside.

Ingredients

1 box sugar free pudding
2 cups nut milk
1/3 cup heavy whipping cream

Quick Tip
Pudding will be very thin. Although it will thicken slightly as it sits, this thin consistency is intentional as you want the cake to soak up the pudding.

Whip up the whipped cream

In a large bowl, beat heavy cream over medium speed using an electric mixer until frothy. Add sugar free sweetener and cocoa powder. Continue beating until stiff peaks form.

Ingredients

1 1/2 cups heavy whipping cream
3 tablespoons sugar free powdered sweetener
2 tablespoons cocoa powder

To a trifle dish, pour about half of the pudding mixture to the bottom of the dish. Top with cubed or crumbled cake. Spread about half the whipped cream on top of the cake to form an even layer. Pour remaining pudding mixture on top of the whipped cream layer. Decorate the trifle with dollops of chocolate whipped cream piped with a piping bag. Refrigerate until serving.

Quick Tip
This keto trifle is even better after refrigerated for a couple of hours or overnight. Top with crumbled cake and melted chocolate if desired.