Keto Breakfast Pizza
by KetoFocus.com
Pizza is now a breakfast food when it's keto
If you love leftover pizza for breakfast, you love this keto breakfast pizza with fresh crumbled bacon, basil and a creamy garlic sauce. Even a few eggs are cracked on the top for the ultimate slice of heaven first thing in the morning!
A low carb breakfast pizza for the dedicated pizza fans. Crispy bacon, creamy garlic sauce, mozzarella cheese and fresh basil are sprinkled on a keto pizza crust. Then we crack four eggs over the pizza and bake the pizza in the oven until the crust is crispy and the eggs are set.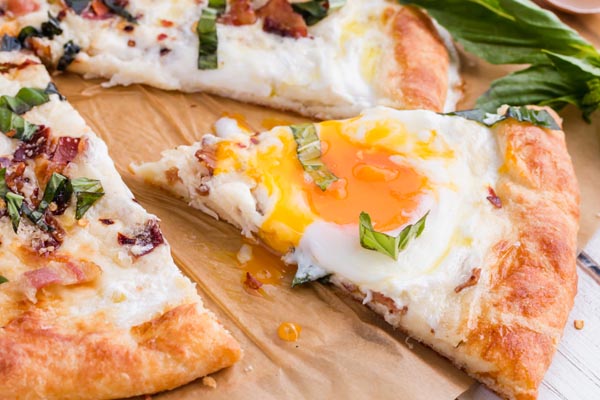 When you cut into the egg with your fork, the yellowy-orange yolk spilled out and covers your pizza. You don't even need red pizza sauce or ranch dressing to dip your pizza in. This is an incredible keto breakfast pizza recipe that will have your taste buds swirling with every bite!
I presented this recipe at a keto conference several years ago. Many made it along with me and all agreed it was a fantastic recipe. See the video below to watch me make it!
How to make keto breakfast pizza
Make the keto pizza crust. This low carb breakfast pizza recipe uses a fat head dough as the crust which is made using melted mozzarella cheese, almond flour, egg, xanthan gum, baking powder and salt. No need for cream cheese in this dough! You don't need those extra carbs and it does nothing for the dough.
Make the garlic white pizza sauce by mixing ricotta cheese with garlic and salt.
Sprinkle shredded cheese all over the pizza dough. Along with crumbled bacon.
Add dollops of the garlic ricotta cheese sauce over the pizza along with red pepper flakes and grated parmesan cheese.
Bake for 4 minutes.
Crack some eggs on top because eggs are a proper breakfast food. And bake for 6-8 more minutes.
Keto Breakfast Pizza Recipe Video
Subscribe to the KetoFocus YouTube Channel
With 100s of videos and millions of views, Ketofocus is one of the most popular Keto channels on YouTube.
Keto Breakfast Pizza Crust Ingredients
3 cup shredded mozzarella cheese, plus ½ cup for topping
1 1/4 cups almond flour
1 egg
1 teaspoon baking powder
1 teaspoon xanthan gum
½ teaspoon salt
Toppings Ingredients
¼ cup full fat ricotta cheese
1 teaspoon minced garlic
1/4 teaspoon salt
1 cup shredded mozzarella cheese
6 slices of bacon, cooked and crumbled
¼ teaspoon red pepper flakes
3 tablespoons grated parmesan cheese
4 eggs
4 to 6 basil leaves, sliced
Keto Breakfast Pizza Directions
Preheat oven to 400 degrees.

Place 3 cups of mozzarella in a microwave-safe glass bowl. Microwave until cheese is melted - about 2 minutes. Remove from microwave and let the mixture cool while combining the remaining ingredients. If you don't want to melt the cheese in a microwave, you can add it to a non-stick skillet and melt over the stovetop over medium heat.

To a food processor, add almond flour, one egg, baking powder, xanthan gum, and salt. Scoop in melted mozzarella cheese. Pulse until a dough ball forms. If you don't own a food processor, you can mix the ingredients using an electric mixer or knead by hand until a dough is formed.

Place the dough in between two pieces of parchment paper. Using a rolling pin, roll out dough to desired thickness - about 1/8 to 1/4 inch thick. Remove top parchment layer and place the pizza dough and bottom parchment paper on top of a baking sheet or pizza stone.

You will need a small bowl

In a small bowl, combine ricotta cheese, garlic and 1/4 teaspoon of salt. Set aside.

Sprinkle 1 cup shredded mozzarella cheese and crumbled bacon evenly over the rolled out keto pizza dough.

Add dollops of garlic ricotta cheese mixture evenly over the pizza. Sprinkle red pepper flakes and grated parmesan cheese over the pizza. Bake at 400 degrees for 4 minutes.

Remove from oven. Use the back of a large spoon to make 4 divots on the pizza and crack remaining eggs into each divot. Return pizza to oven and bake for an additional 6-8 minutes or until egg white are almost set. Set oven to broil and broil pizza until eggs are cooked but yolks are still runny (about 30 seconds to 1 minute).

Remove pizza from oven. Sprinkle basil over pizza.