Lemon Garlic Kale Salad
by KetoFocus.com
This Lemon Garlic Kale Salad is an effortless, flavor-packed side dish that comes together quickly with simple ingredients like kale, toasted almonds, parmesan, and a homemade zesty lemon-garlic dressing, making it ideal for last-minute potlucks, cookouts, or any casual meal.
Sometimes simple, everyday ingredients can create maximum flavor. Similar to a Caesar salad with a dressing that has a perfect balance of salt, acid and fat, this kale salad recipe with lemon garlic dressing is no exception.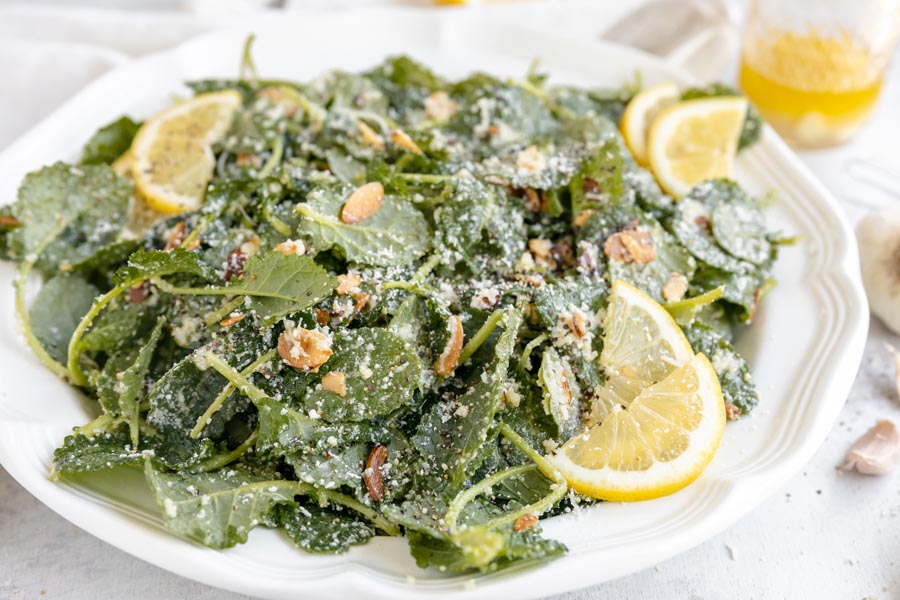 You just need a handful of ingredients, many of which you probably already have sitting in your pantry or refrigerator – like lemon juice, olive oil, salt, garlic, parmesan cheese and almonds. You just might need to pick up some raw kale or just use your favorite salad mix if kale salads are your thing.
But the simplicity and minimal effort aren't the only reasons to love this salad, this dish is my go-to when headed to a potluck or cookout. Not only is it a powerhouse of zesty flavor that most everyone will enjoy, but can easily be assembled right before serving as long as you make the dressing up ahead of time.
Toast sliced almonds in a skillet over medium heat. Set aside.
Make lemon garlic salad dressing. Add olive oil, lemon juice, salt and smash garlic to a mason jar. Shake to combine and let sit for at least 5-10 minutes. The longer the best as you get that garlic infused flavor.
Toss baby kale leaves, toasted almonds, grated parmesan cheese and dressing until coated and right before serving.
Subscribe to the KetoFocus YouTube Channel
With 100s of videos and millions of views, Ketofocus is one of the most popular Keto channels on YouTube.
Lemon Garlic Kale Salad Ingredients
½ cup sliced almonds
4 cloves garlic
⅓ cup lemon juice
1 teaspoon salt
½ cup olive oil
5-8 oz baby kale leaves or chopped kale
1 cup grated parmesan cheese
Lemon Garlic Kale Salad Directions
Toast almonds in a skillet over medium heat until golden brown and fragrant. Set aside.

Quick Tip
To toast almonds in the oven, evenly scatter sliced almonds on a parchment lined baking tray. Bake in a 350°F oven for 7-8 minutes, shaking halfway through.

Make zesty lemon garlic salad dressing

Smash garlic by whacking each clove with the side of a knife. In a small bowl or mason jar, whisk lemon juice and salt. Add olive oil, smashed garlic and whisk or shake until until combined. Let garlic sit and steep for at least 10 minutes. Remove garlic cloves before assembling the salad.

Ingredients

4 cloves garlic
⅓ cup lemon juice
1 teaspoon salt
½ cup olive oil

Quick Tip
Salad dressing can be made ahead of time and stored in the refrigerator for up to 5 days. The longer the garlic sits in the dressing, the more pronounced the garlic flavor.

To a large salad bowl, add kale leaves, toasted almonds, and grated parmesan. Drizzle on dressing and toss to evenly coat. Serve right away.

Ingredients

5 oz baby raw kale leaves or chopped kale
1 cup grated parmesan cheese