Keto Red Velvet Waffle Recipe
by KetoFocus.com
A dessert chaffle with hint of chocolate flavor
These red velvet chaffles are fluffy, spongy and they make the perfect Valentine's Day breakfast for your loved ones or sweetheart!
If you are a fan of red velvet cake and keto waffles, you will LOVE these red velvet chaffles! They have all the flavors of red velvet cake – sweet, tangy and a hint of chocolate. You will want to make these for breakfast often or save them for a special breakfast, like for your loved one on Valentine's Day or Christmas morning.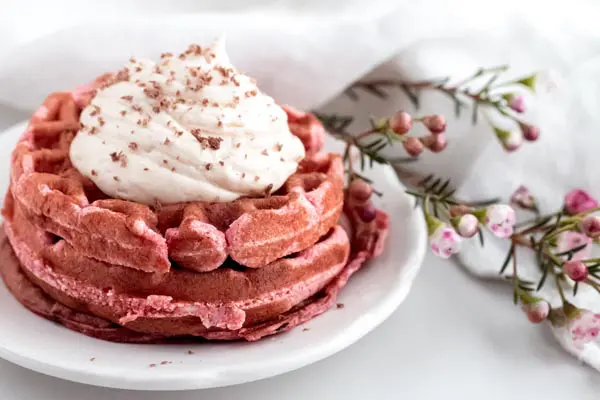 These waffles are fluffy and tender. Top with a dollop of keto white chocolate cream cheese frosting or whipped cream for an extra special treat in the morning.
How to make red velvet chaffles
Combine waffle batter ingredients in a small bowl.
Pour into mini waffle maker.
Let cook until set.
Top with whipped cream.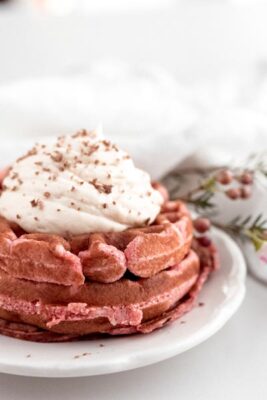 Subscribe to the KetoFocus YouTube Channel
With 100s of videos and millions of views, Ketofocus is one of the most popular Keto channels on YouTube.
Keto Red Red Velvet Waffle Recipe Ingredients
1 egg
1 oz cream cheese
2 tablespoons coconut flour
1 tablespoon buttermilk
2 teaspoons sugar free sweetener
1/2 teaspoon baking powder
1/2 teaspoon cocoa powder
red food coloring
Keto Red Velvet Waffle Recipe Directions
Plug in waffle maker to preheat.

Whisk together all of the ingredients. Add a few drops of red food coloring to achieve desired shade of pink or red.

Pour about 1/3 of the red velvet batter into the waffle maker if using a mini waffle maker. If using a large waffle maker, pour all of the batter. Close the waffle maker and let cook for 3-5 minutes or until waffle is golden brown and set. Waffle is meant to be spongy and will not crisp up, so cook until set and browned.

Remove chaffle from the waffle maker and serve.